Atlanta
Site plans and other details have emerged for a City of South Fulton project designed for walkability that could mark another example of developer bullishness on the area.
Merrill Trust Group, developer and owner of the Foxhall Resort & Residences in nearby Douglas County, is putting together plans for a mixed-use project called Cedar Grove Village that would span about 67 acres where South Fulton Parkway meets Cedar Grove Road.
The Cedar Grove site is located about 16 miles west of Atlanta's airport, about nine miles northeast of the master-planned new town Serenbe has become. A shopping center called The Village Shops at Cedar Grove is located across the street, but many other portions of the corridor are undeveloped.
Merrill Trust officials haven't responded to inquiries for project updates this month, but a new marketing brochure sheds light on exactly what could be bound for South Fulton.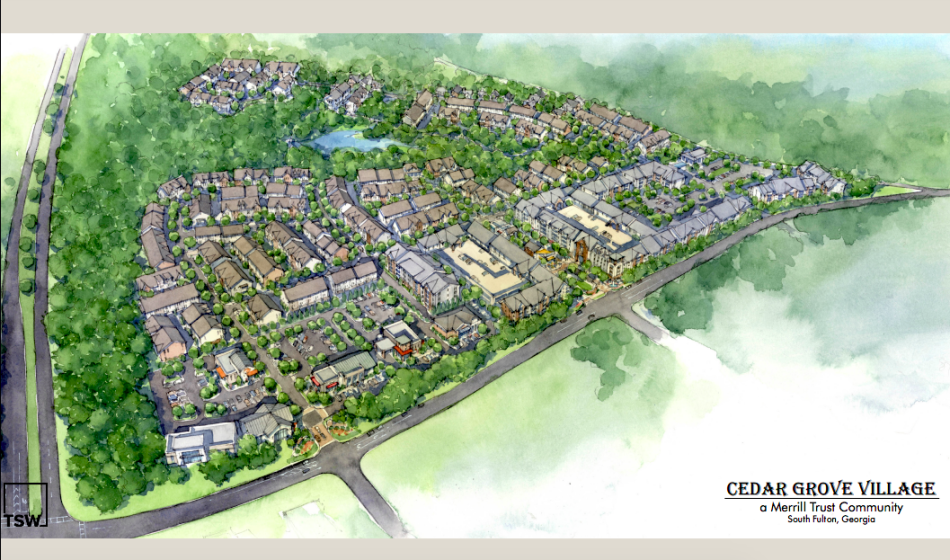 Overview of the 65-acre South Fulton project. Merrill Trust Group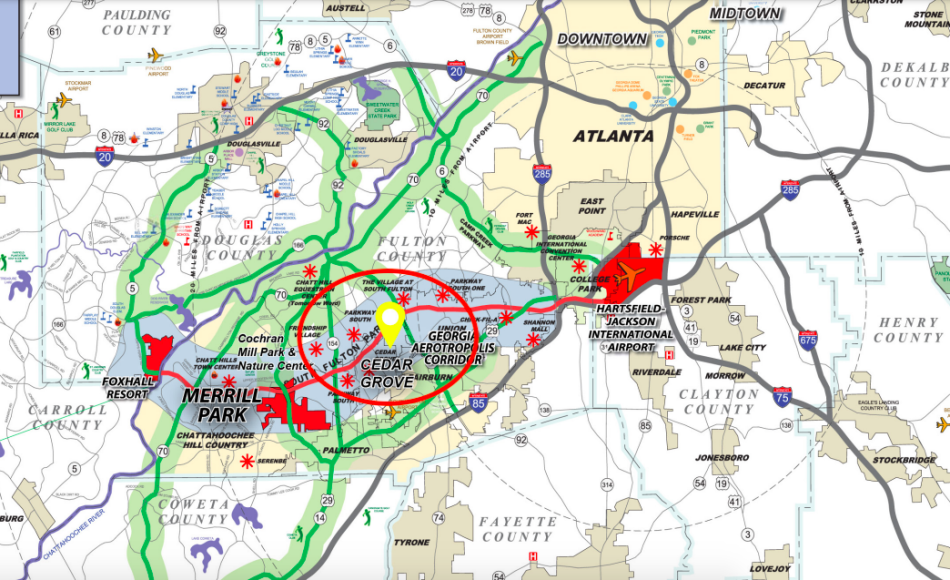 The project's location in relation to Atlanta's airport, the developer's other properties, and other points of interest including Serenbe. Merrill Trust Group
Cedar Grove plans call for 793 residential units total, to include apartments, townhomes, and just 16 standalone houses. About 66,000 square feet of commercial and restaurant space would complement the residential, some of it situated on a promenade.
About 24 acres of open greenspace would be incorporated into the project, and 195 guest parking spaces would be spread throughout, on streets and tucked into alleys as opposed to typical parking lots, according to a site plan.
Merrill Trust officials told the Atlanta Business Chronicle in October 2021 they had recently purchased the property with cash and expected to spend between $225 million and $350 million to develop the acreage. Plans at the time called for townhome prices starting in the $300,000s and for retail spaces to be filled with a healthy grocer, medical offices, patio-heavy restaurants, and training spaces.
The goal, developers said at the time, was to create a relatively high-density project that learned from lessons of car-centric, north OTP development, lending residents who prize airport proximity an approachable homebuying option that doesn't require driving for all tasks and commutes.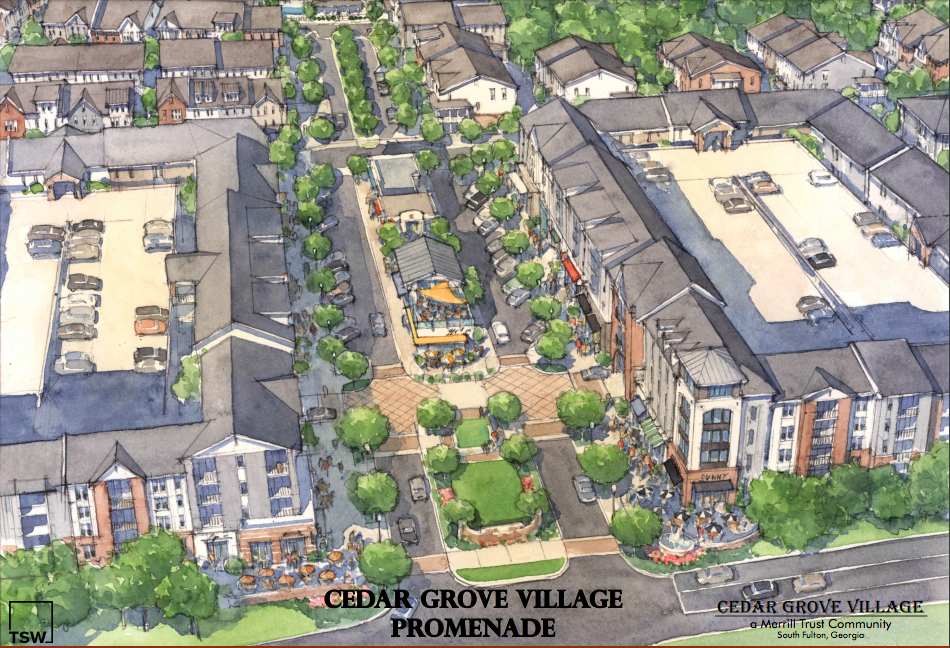 This promenade feature is envisioned as a walkable Cedar Grove Village component. Merrill Trust Group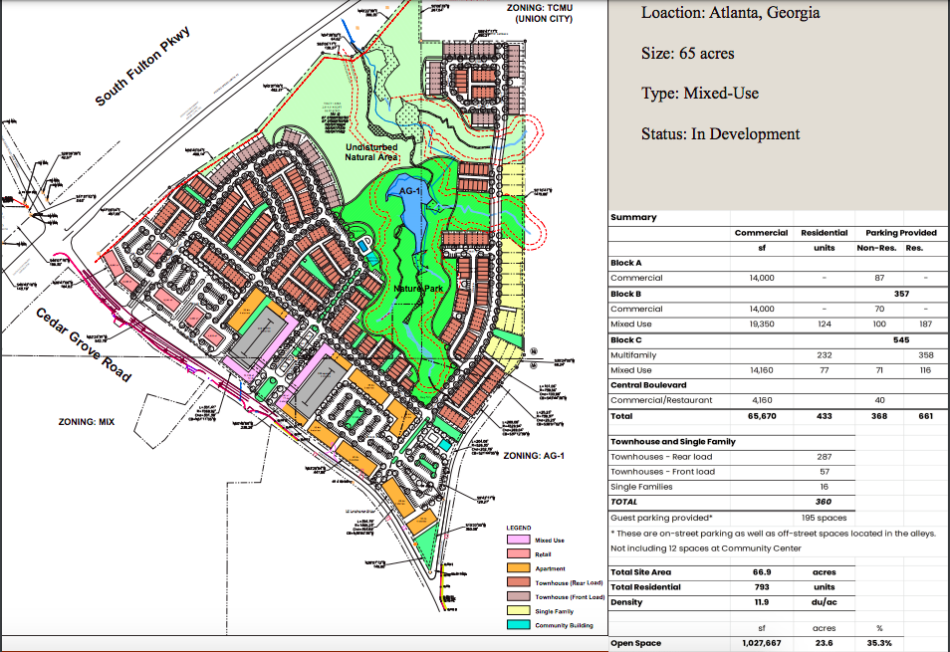 Breakdown of planned uses, with many townhomes fronting a nature preserve and park with a water feature. Merrill Trust Group
Cedar Grove would mark another significant bet on OTP areas southwest of the airport, where land is generally cheaper and more available than most suburban points north.
Other examples include a mixed-use project that could bring 1,500 housing units to the area that was also recently proposed in South Fulton. A 295-unit multifamily project called Union Green broke ground in July in nearby Union City. And in Chattahoochee Hills, Serenbe project leaders are embarking on construction of a new district expected to cost nearly $300 million.
Partners in the Cedar Grove project are listed as TSW architects as land planner, Prime Engineering, and A&R Engineering for traffic planning.
Find a closer look at what's in the pipeline for Cedar Grove Village in the gallery above.
…
Follow us on social media: 
Twitter / Facebook 
• South Fulton news, discussion (Urbanize Atlanta) 
Copyright © Urbanize Media LLC 2023